Back to top
The Vice-Chancellors
The eight universities, represented by their Vice-Chancellors, make up the membership of Universities New Zealand – Te Pōkai Tara. The Vice-Chancellors meet on a formal basis six times a year. The position of Chair rotates every two years..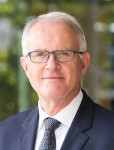 Professor Stuart McCutcheon
BAgSc (Hons), PhD (Massey)
Private Bag 92019, Auckland 1142
Professor Stuart McCutcheon is Chair of Universities New Zealand for 2017-2018
Professor Robin Pollard
BSc(Hons) (Cantuar), MBA (Monash), PhD (Cantuar)
PO Box 85084, Lincoln, 7647
Professor Robin Pollard is Deputy Chair of Universities New Zealand for 2018.
Derek McCormack
MSc, DipTchg
Auckland University of Technology
Private Bag 92006, Auckland 1142
Professor Neil Quigley
BA MA(Hons) (Canterbury), PhD (Toronto)
Private Bag 3105, Hamilton, Waikato Mail Centre 3240
Professor Jan Thomas
BSc, BVSc (Murdoch), MVS (Melbourne), PhD (Murdoch)
Private Bag 11222, Palmerston North, Manawatu Mail Centre 4442
Professor Grant Guilford
BPhil, BVSc (Massey), PhD (UC Davis)
Victoria University of Wellington
PO Box 600, Wellington 6140
Dr Rod Carr
MA, PhD (Wharton), MBA (Columbia), BCom (Hons), LLB (Hons) (Otago)
Private Bag 4800, Christchurch 8140
Professor Harlene Hayne, ONZM
BA (Colorado College) MS PhD (Rutgers) FRSNZ
PO Box 56, Dunedin 9054