Ka ako i te aha, ka ako ki hea?
Universities offer a wide range of subjects to study at undergraduate level. The main undergraduate qualification is called a Bachelor's degree and the subject you choose to specialise in is called your major.
Our 'Qualifications' section lists all of the types of undergraduate qualifications available in New Zealand.

QUALIFICATIONS | Ngā tohu
University Preparation programmes
(NZQF Levels 4/5)
All universities have Foundation pathways for students who need further English language, academic and study skills preparation before undertaking undergraduate study.
Foundation programmes generally run for up to one year of full-time study.
Bachelor's degree (NZQF level 7)
Is normally three years in duration (full-time) and consists of a prescribed number of papers or courses. Typically, a Bachelor's degree offers a great deal of flexibility, and the opportunity for students to choose a programme that is appropriate for them.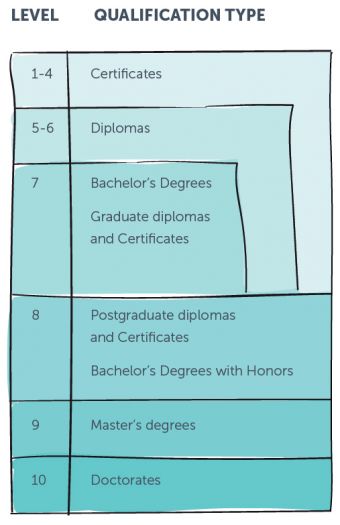 Bachelor's degree with Honours (NZQF level 8)
Is a one-year programme of study following a Bachelor's degree or an integrated four-year programme, requiring more specialised study in the chosen major subject and frequently involving some independent research or investigation.
Graduate diploma / Graduate certificate (NZQF level 7)
A one-year, full-time course of study for graduates. Prior learning or experience in the subject matter of the diploma is not always required, giving graduates an opportunity to add a qualification in a different major subject to that of their first degree. A Graduate diploma may also be used as a bridging qualification to specialist postgraduate study.
A Graduate certificate is a half-year (full-time) course of study.
Postgraduate diploma / Postgraduate certificate (NZQF level 8)
A Postgraduate diploma is a one-year (full-time) course of study that builds on the same subject matter in the academic field of a relevant Bachelor's degree.
A Postgraduate certificate is a half-year (full-time) course of study.
Master's degree (NZQF Level 9)
Is open to those who have completed a Bachelor's degree with good grades, and comprises 1–2 years of advanced study in the student's major discipline.
Doctorate (NZQF level 10)

A Doctorate is normally the highest academic qualification available within a university. The main doctorate is the PhD (Doctor of Philosophy). This degree can be taken in any one of the wide range of subjects and involves original and sustained research under academic supervision. A PhD usually takes at least three years of full-time study.
Conjoint degrees
A specialised programme of study that enables a student to complete two Bachelor's degrees in shortened time.