Back to top
AUT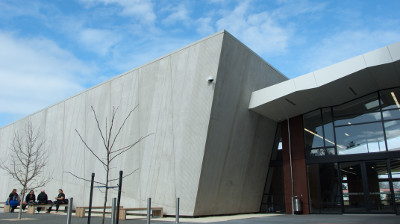 Vice-Chancellor
Derek McCormack
Location / campuses
AUT City Campus
AUT North Campus
AUT South Campus
AUT Millennium (specialist sports science facility)
Radio Astronomy Observatory
Centre for Refugee Education
Date established
2000
Numbers of students
Student headcount: 29,248
Equivalent full-time students: 20,133
Specialisation/s
Design, Computing and Technology
Health and Environmental Sciences
Culture and Society
Business, Economics and Law
Māori and Indigenous Development
Rankings / awards
1st in Australasia and #22 worldwide for International Outlook (Times Higher Education)
1st in New Zealand and 101st in the world for Global Research Impact (Time Higher Education)
Top 30 millennial universities worldwide (founded in the 21st century; Time Higher Education)
Top 350 universities in the world (Times Higher Education)
Top 70 Universities under 50 years old (Times Higher Education)
15 subjects world-ranked (QS, Time Higher Education, Academic Ranking of World Universities)
AUT is rated as a five-star university by QS with a maximum five stars for Teaching, Employability, Internationalisation, Facilities and Inclusiveness
Auckland University of Technology (AUT) is New Zealand's only university of technology, with a deliberate focus on technological transformation, external impact and industry connections. We have been a university since 2000, and we are now the second largest university in the country and ranked among the top 350 universities in the world. We offer a contemporary university education and prepare students to be successful wherever in the world their career may take them.
We have a strong focus on students and graduates, and offer exceptional learning experiences to help our students become world-ready graduates. We encourage innovation and entrepreneurship, and the ability to explore new technologies and challenge routine thinking. As a contemporary university we also place an emphasis on working across disciplines in our research, and teaching and learning.
Thanks to our innovative teaching, excellent reputation and combination of theoretical and practical learning, AUT graduates are highly favoured by employers, with 96% of available graduates in paid employment within six months of graduation. 
AUT's three modern campuses have several award-winning buildings which were created using sustainable principles and feature eye-catching, modern and functional learning areas, auditoriums and research areas. 
We also have a number of world-class facilities including one of only two motion capture studios in the country; New Zealand's top sports science facility, AUT Millennium; and the country's only two major radio telescopes, which are involved in projects with international research partners including NASA.
According to a 2018 survey, 89% of AUT students would recommend the university to others, 88% were satisfied with their campuses, and 84% were satisfied with the quality of teaching. 
We have an overall five-star rating from QS, in addition to five-star ratings for Internationalization, Teaching, Graduate Employability, Inclusiveness and Facilities. 
We are consistently ranked #1 in New Zealand for International Outlook, with over 5,400 international students from 150 countries (QS 2018, Times Higher Education 2018).
With a dynamic and diverse staff and student population, comprehensive student support services, and world-leading facilities and resources, AUT is committed to enabling students to achieve their aspirations.