Back to top
Apply for Critic and Conscience of Society Award - $50K to assist with research - by 28 Feb
22 November 2017 | news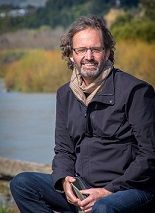 Pictured: Dr Mike Joy, Inaugural winner of the Critic and Conscience of Society Award
Applications are sought for the Critic and Conscience of Society Award which is administered by Universities New Zealand.
The purpose of the Award is to encourage the academic staff at New Zealand universities to act as the critic and conscience of society by providing the public with independent, expert commentary on issues affecting the New Zealand community and future generations.
Each year the Award will be made to a full-time or part-time academic staff member of a New Zealand university who, in the opinion of a panel of three independent judges, has done more in the past two calendar years than any other applicant to act as the critic and conscience of society.
The Award will be presented at a special function in mid-2018 and will be accompanied by a cheque for $50,000 which is to be used by the recipient to assist with research, conferences and other work-related expenses.
The Award is  sponsored by The Gama Foundation.
Winners of the Award will not be eligible to apply again until after five years have elapsed.
An application form can be obtained by emailing: contact@universitiesnz.ac.nz. Critic and Conscience of Society Award should be stated in the subject line.
The closing date for applications is 28 February 2018.