Back to top
Collaboration between universities and industry: Is New Zealand missing out?
31 October 2018 | news
Is New Zealand missing out on the benefits of university-industry collaboration (UIC)?
A report just released by Universities New Zealand and Deloitte Access Economics shows a low level of UIC in New Zealand. Based on a 2017 OECD survey of small and medium enterprises, only about 5% of NZ firms are collaborating with higher education or research institutes, putting New Zealand at 29th out of 33 OECD countries.
What can be done to improve this? And should we bother?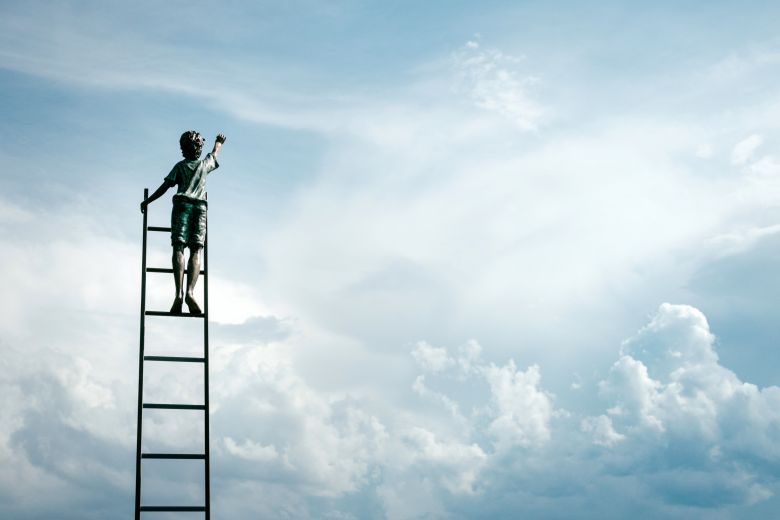 What is university-industry collaboration (UIC)? Views differ, but a common theme is encouraging people to apply their talents to joint projects, becoming motivated by a collective mission. Formal activities undertaken by universities and industry together may include contracts, collaborative research projects, patent licensing, co-development and co-authorship.
For universities, UIC can enhance reputations and give access to funding and industry data. Companies benefit by getting access to knowledge, and university facilities, equipment and research; and sharing R&D risks.
The ultimate benefit, however, is economic, with increased productivity, innovation and competitiveness.
The Deloitte Access Economics report gives examples of university-industry collaboration in New Zealand [see diagram below] but points out that these are few and far between.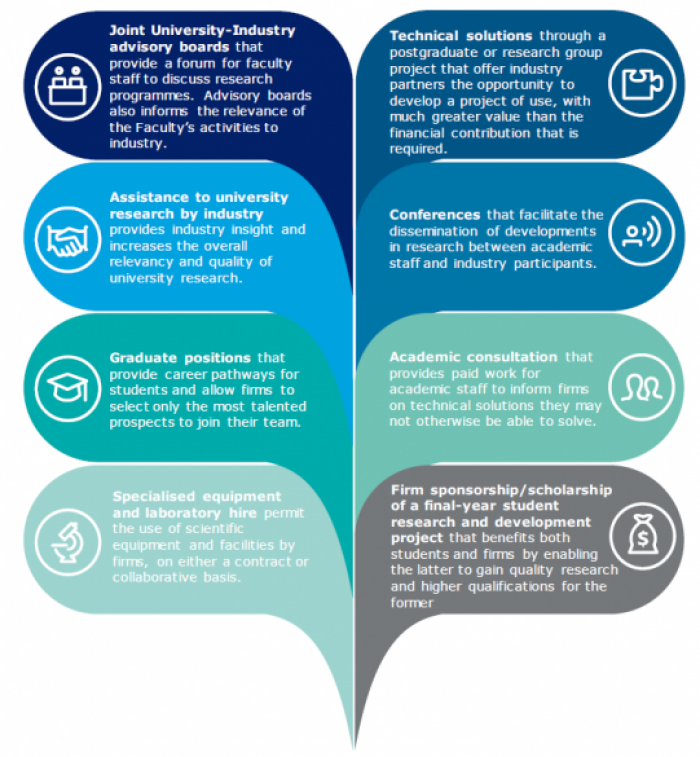 So what needs to be done to improve this?
Building successful collaboration needs five key success factors:
Developing long-term strategic relationships with on-going interaction—collaboration is aligned with the strategic interests of firms, while giving universities research funding, improved curriculum relevancy and experience for students.
Making a two-way exchange—going beyond funding to share infrastructure and equipment
Encouraging new avenues for innovation—using individual industry managers to forge links across the university, to develop new areas for innovation for their companies.
Building strong communication links between university and industry—regular site visits, maintaining university-industry contact during and after projects increases the likelihood of future collaboration
Establishing clear guidelines around intellectual property ownership early.
More research into how New Zealand stacks up against these factors would identify target areas to improve both the level and success rate of future university-industry collaboration here.
Government support in the form of policies to encourage firms to collaborate with universities would help. While R&D grants and funding are available, no specific grant is linked to UIC. The Deloitte study suggests international examples that could be useful.
Internationally, governments look to stimulate UIC through their role in funding universities. New Zealand's Performance-based Research Fund is an example of this, and a measure specifically linked to UIC could be added as an indicator to assess performance-based funding of universities.
Formalised PhD internships could also be considered, with PhD candidates being encouraged to intern with a relevant industry organisation and to develop their research proposal with academic and industry input. Understanding an industry's challenges and needs could generate more relevant applied research with or for industry.
More work is needed to estimate the overall benefit of university-industry collaboration in New Zealand but—looking at international examples—New Zealand can only benefit by improving its investment in these areas.
Businesses interested in pursuing opportunities to collaborate can contact university research offices (Auckland, AUT, Waikato, Massey, Victoria University of Wellington, Canterbury, Lincoln, Otago) or Universities New Zealand for more information.