Back to top
International collaboration pays off
05 April 2017 | media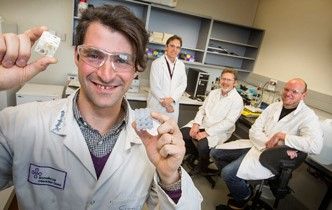 New research shows that every $1 invested in getting New Zealand researchers to collaborate with overseas researchers returns $7 in increased economic activity over the following 20 years. Here's how.
We know that international collaborations and academic mobility strengthens networks, trade and links and raises universities' profile. But it's also associated with increased publication and citation rates – and, as recently explored, an estimated pay off for New Zealand in terms of GDP.
Collaboration with international peers and institutions is a long established feature of university research. In recent years, formal and informal partnerships have increased to include collaborative approaches to teaching and learning and new forms of joint ventures. Throughout this, collaboration between academics has continued to grow.
The Ministry of Business, Innovation and Employment's most recent Performance Report on the Science and Innovation System confirms that New Zealand researchers are well connected internationally and that levels of collaboration continue to rise. Over half (54%) of New Zealand research publications in 2015 featured international co-authorship – up from 44% a decade ago and nearly twice the OECD average (28%).
Top fields for collaboration were: medicine; agricultural and biological sciences; biochemistry, genetics and molecular biology; engineering; and earth and planetary sciences. The most common countries for co-authorship between 2010 and 2014 were USA, Australia, UK, Germany, Canada, China and France, with nearly 32,000 publications featuring a New Zealand author and at least one other from one of these countries.
Through the development of a new model, Deloitte Access Economics estimates that just 1% of New Zealand's current stock of academic staff participating in academic exchange increases GDP by $3.6 million in Net Present Value (NPV) terms.  That's what gives the $7 back for every $1 invested.
The benefits are even higher if additional funding for mobility is targeted at academics without previous experience working overseas. Of interest to this government, a 1% increase in research funding per capita is found to increase GDP by a cumulative $929 million NPV over the first 20 years.
In this context, it has been encouraging to see increased investment in university research over recent years and we are hoping to further investment in Budget 2017.
Links:
Deloitte Access Economics, 2017. Forthcoming.