Back to top
Is international education changed forever?
17 November 2020 | news
With thousands of international students unable to start or continue their studies in New Zealand this year, reports of the end of international education as we know it are rife.
Could this actually be the case? Or are these reports of the death of a sector merely 'greatly exaggerated', as Mark Twain might have had it.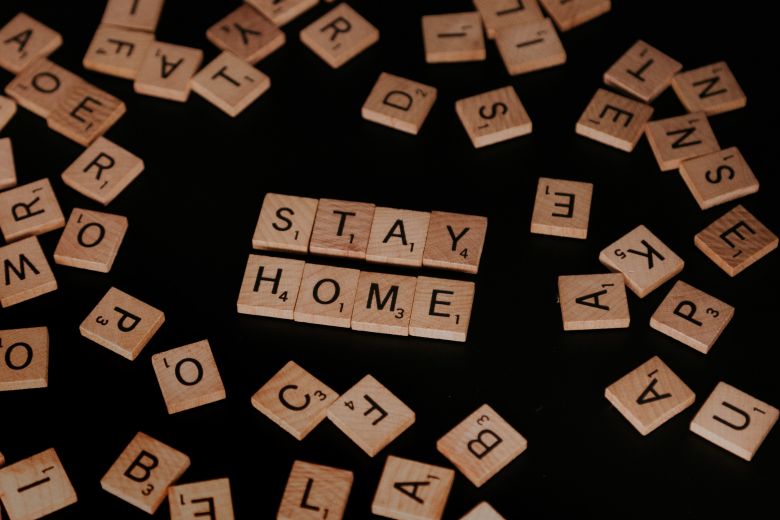 At this stage, all evidence suggests that the traditional international education market has only been interrupted during the Covid-19 period. International students have mostly deferred plans to study overseas or—if preferred destinations like Australia and New Zealand have closed borders—they have gone to other countries where borders are still open. International student enrolments at UK universities are up by 9%, for example.
And when New Zealand does reopen its borders to international students, demand is likely to be higher than ever—based on agent surveys and inquiries by prospective students. So we should do all we can to ensure that students and agents know that New Zealand is working hard to restart international education when it can safely do so.
What's in it for universities?
Universities focus on their international connections for more than just revenue generation. Research collaborations, recruiting academic talent and developing multi-cultural competencies in domestic graduates are all important factors.
International students help New Zealand students and New Zealand businesses by giving market insights into their own countries. International students who graduate and return home are more likely to recommend New Zealand to other students, to return as tourists, to trade with us, to collaborate with our universities in research, and to generally remain friends and supporters of this country.
Is there an alternative?
Distance learning/education has been touted as a substitute for bringing students here to study; maximising on-line delivery to deliver programmes off-shore is suggested as a viable alternative to in-person delivery.
But international student demand for distance education is low. Overseas governments and employers hold long-standing prejudices against qualifications gained via distance learning.
And, for most international students, the qualification is only one part of what they look for. A key objective is being able to present themselves to employers as having lived and worked in an English-speaking country and having gained an understanding of how to do business in the international language of commerce.
A July 2020 survey[1] of 53,000 prospective international students supported this, finding:
only 20% were 'extremely interested', or 'very interested' in studying online as a consequence of Covid-19
around 65% were planning on deferring their study or were looking to study abroad in a different country
around 80% thought that studying online should affect tuition fees, with about a quarter thinking fees should be discounted by 50% or more, and around 35% thinking fees should be discounted by 30%-50%.
While there will always be demand for distance education for a variety of reasons, it will not be a preferred option for most students for the foreseeable future. And most of the value of international education to New Zealand comes from students actually coming here, with every dollar earned by a university from international education leading to another $1.77 additional direct, indirect and induced economic benefits.
Why don't the universities diversify more?
New Zealand universities have been actively trying to grow postgraduate markets in India and undergraduate markets in Latin America for the past five years. Our experience in these regions shows that it takes decades to grow markets significantly.
Diversification should be about growing new markets in parallel with existing markets. Reducing demand from other countries should be avoided until new markets are successfully operating at scale.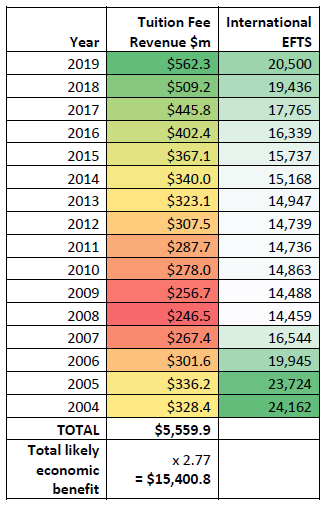 While there are times when the Crown may need to step in to help universities bridge the short-term implications of an event such as Covid-19, the long-term economic returns from international education more than make up for the short-term risks to the Crown, as the accompanying table shows.
Over the 15 years shown, the sector has generated (indicatively) $15 billion of economic activity before counting broader soft-power benefits.
Any potential requirement for Government to provide short-term support is unlikely ever to be more than a small proportion of that amount.
International education revenue subsidises other teaching and research while helping universities achieve economies of scale. So diversifying away from international education would either see a major reduction in the ability of the university sector to deliver both the quality and quantity of teaching, research, and student support currently available.
Or it would require a very different funding system.
[1] https://info.qs.com/rs/335-VIN-535/images/How-COVID-19-%20Impacting-Pros...