Back to top
Minding the gap?
12 December 2017 | news
We wanted to find out whether the debate, discussion and plans in Parliament had made a real and sustained difference in one key indicator that has the potential to change lives: Māori University Entrance (UE) achievement rates.
So we've charted the number of days, between 2004 and 2016, that "underachievement" or "parity" were mentioned in Parliament, and contrasted it with the percentage gap between Māori and European University Entrance (UE) roll-based achievement rates at year 13.  
What did we find?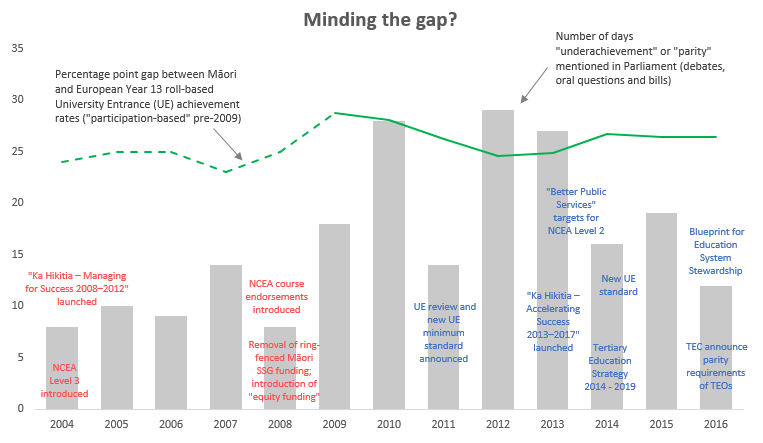 Despite all the noise, the gap between Māori and European UE rates persists at around 26 percentage points.
Ministry of Education data shows that currently around 31.4% of Māori and 30.7% of Pasifika school students in Year 13 achieve UE, compared with 57.8% of European and 66.5% of their Asian classmates.
Given all that we know about the benefits of a university-level education, this is holding back generations of Māori, their whānau and the New Zealand economy.
Until we see the real issue of underachievement at secondary school addressed, the university sector is effectively curtailed in the extent to which it can bridge the parity gap.
The Productivity Commission's 2017 Working Paper said,
"Overall, our results suggest that ethnic-based policies aimed at encouraging entrance to bachelor's degrees are likely to have a limited effect if used in isolation. Rather, our findings highlight the need for policy intervention earlier in the education system to help lift the NCEA performance of Māori and Pasifika, and in doing so improve the likelihood of their participation in higher education qualifications, such as bachelor's degrees." (Meehan, L., Pacheco, G. & Pushon, Z., p33).
We welcome the appointment of Hon Kelvin Davis as Associate Minister of Education (Māori Education), which is a good start, and we look forward to contributing academic expertise to help resolve this issue.
Sources: