Back to top
Ministry data confirms excellent outcomes for uni grads
31 October 2017 | news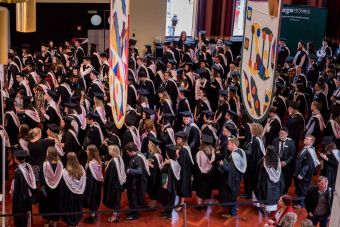 The Ministry of Education's new detailed dataset is a first step towards providing a user-friendly interface on graduate outcomes for prospective students, their families and other interested parties. It contains graduate destinations and earnings by qualification level, field of study and tertiary education provider for young, domestic graduates.
Welcoming the data release, Universities New Zealand cautioned against its potential misuse given small numbers of graduates at some levels of qualifications and some fields of study, particularly in the non-university sector.
With the dataset's focus on "young domestic graduates" (ie up to age 23 years for those who completed a degree and up to 29 years for those who complete a PhD), looking nine years out from graduation places many of the graduating cohorts in the middle of key childbearing and childrearing years. This will have an impact on median earnings data as the analysis doesn't differentiate between people in part-time or full-time work. This is likely to understate the estimates, particularly for those working in fields in which part-time work is more likely.
Noting these caveats, the data do give us some interesting insights:
What does this data release tell us about universities?
University bachelor degree graduates have high employment rates with just 0-5% receiving a benefit, which is consistent with New Zealand's Graduate Longitudinal Study which found that just 2.7% of graduates were unemployed.
Regardless of the broad field of study, university degree graduates have median annual earnings above the median annual earnings for all New Zealanders.
University graduates are highly mobile. Nine years after graduation, upwards of 20% of young domestic NZ university bachelor degree graduates are overseas, ranging as high as 35-40% for degree graduates and 45-50% of doctoral degree graduates from some universities.
And what doesn't it tell us?
The longer-term benefits of a degree-level education for an individual, their employment prospects and lifetime earnings.
The public benefits that accrue from tertiary education, including: the impact of a highly skilled workforce on creativity, productivity, innovation and entrepreneurship; improved levels of civil participation; lowered social and health costs; the positive impact on families and communities; and a higher tax take.
The earnings potential of the high proportion of university graduates who can secure international employment, temporarily or on a permanent basis.
Variation in graduation destinations and earnings by gender, ethnicity, regions and employment status (including rates of self-employment and other forms of entrepreneurship).
The impact of New Zealand's low wage economy on all workers' median earnings, including graduates.
Other sources about graduate outcomes
Another source for students and parents is Universities New Zealand's Graduate Outcomes Website. It shows where a qualification will take them, what qualification they typically need for a particular job, what they will earn, and whether they should consider postgraduate study. It maps the qualification, jobs and earnings of all those aged 30-39 years based on 2013 Census data, to indicate what recent graduates, who are established in their career, are earning.
The latest Graduate Longitudinal Study report, showing graduate outcomes two years after graduation, also confirmed the value of a New Zealand university degree in preparing students for their lives and careers. It found they were highly satisfied with their lives, already earning around the national median income after only two years in the workforce, and that just 2.7% were unemployed.
A university degree remains a good investment for students and their families and whānau.
Links:
Ministry of Education: Employment outcomes for tertiary education graduates for different tertiary providers (30 August 2017).
UNZ media release: UNZ cautions about potential for misuse of national earnings data (30 August 2017).
Universities New Zealand's new Graduate Outcome website.
Graduate Longitudinal Study.