Back to top
NZ now most attractive country for international students
06 August 2020 | news
New Zealand is the now most attractive country in the world to international students, thanks to its handling of the coronavirus pandemic. 
That's according to a recent survey of 400 agents across the Navitas global network in 63 countries. These agents send students all over the world to study
"This is a huge opportunity for New Zealand universities, PTEs and schools," says Chris Whelan, Universities New Zealand's Chief Executive. "But only if we are able to bring students safely into the country in time to take advantage of this positive perception."
The report's author, Jonathan Chew, says that while all destinations are facing similar challenges, countries have responded differently to the pandemic and to the plight of international students.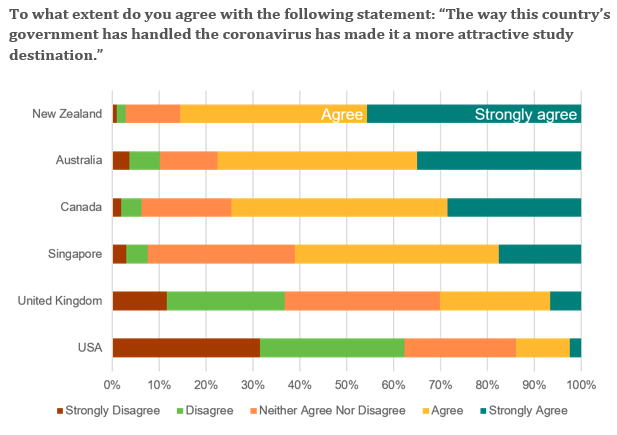 These results echo those of a survey undertaken by Quacquarelli Symonds (QS), which offers research and analytics on global higher education.
New Zealand was chosen as the country that has handled the coronavirus outbreak the best by 28% of prospective international students surveyed—more than double the number who selected China, the next highest country.
When asked why they had chosen New Zealand, one respondent commented: "They carried out proper awareness. They prioritized health over economy, they actually listened to science. They ensured proper awareness and complete lock-down. They acted fast. They maintained transparency."
Many international students also say they would be prepared to start their education online, particularly if they knew it would only be for a set period. If prospective international students knew that online studies would be for a duration of six months until face-to-face classes could commence, then 64% claimed they would be interested in starting their studies online, while 75% would be if that period was only for three months.
"Having certainty about a starting date for face-to-face study will encourage international students to enrol in New Zealand universities, even if their initial experience is online," says Chris Whelan. "Certainty about timing is what we're after."
QS recommends that institutions are open and communicate clearly with prospective international students—creating and communicating contingency plans, detailing how their online learning offering will be delivered, how they will transition to face-to-face teaching, and being as specific as they can be on the timelines they will follow.
With so much uncertainty around, universities can detail the strategic planning to ensure they are prepared for shifts in government guidance and reassure prospective students that they will act quickly and effectively.
Offering discount fees for online tuition may also encourage international students to continue with their study plans. The survey shows that students expect tuition fees to be discounted if studies start online.
This is likely to prove difficult for universities already facing cutbacks and loss of income. But being able to clearly explain how much is going in to developing effective online platforms may help temper expectations.
Chew, Jonathan. COVID-19 is changing the fortunes of international education destinations (Part 1). Navitas Insights. July 2010
THE OUTLOOK FOR UNIVERSITY ADMISSIONS: THE IMPACT OF COVID-19: How admissions in the upcoming 2020/2021 academic year could be impacted by the coronavirus crisis. QS. June 2020