Back to top
Scholarships support young musicians' first steps on the world stage
21 June 2022 | news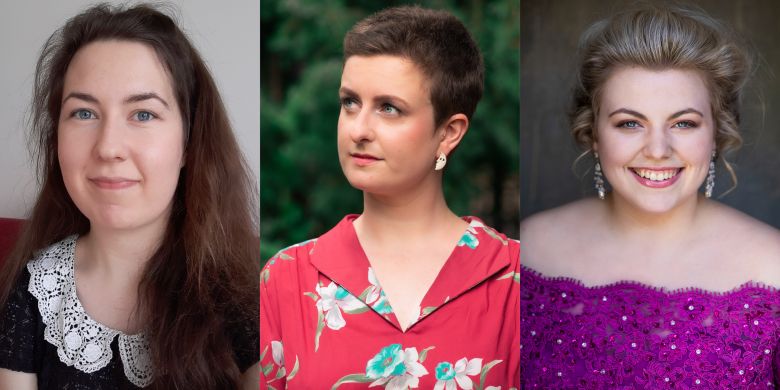 Three outstanding young Aotearoa New Zealand musicians have been awarded a Kia Ora Foundation Patricia Pratt Scholarship to support their artistic growth at prestigious international academies.
Bethany Angus, aged 23, from Wellington is studying for a Master's degree in cello performance at the Royal Conservatoire The Hague in the Netherlands.
The Royal Conservatoire is one of the top institutions in the world for early music, a particular passion for Bethany, who as well as being a cellist is an accomplished keyboardist and plays as a casual harpsichordist with the New Zealand Symphony Orchestra.  
For her Master's project, Bethany will write a guide to baroque cello playing aimed at classical players who would like to explore the baroque style in more depth but may not have access to a baroque cello or high-level teaching.
"There are very few baroque cello teachers in New Zealand so I hope this will be of help to local players as well as my own personal development and learning," she says.
Senior lecturer Dr Rachael Griffiths-Hughes from the University of Waikato, one of Bethany's referees, says: "The study of early music as a specialism has gone a bit quiet in New Zealand of late and it is heartening that a multi-talented musician like Bethany is choosing this path. She may be the ideal person to restart a resurgence of interest in this country."
Bethany has a Bachelor of Music from the University of Waikato, for which she completed honours at Te Herenga Waka – Victoria University of Wellington.
She has played cello with Orchestra Wellington since 2016 and other recent performances include in the Adam Chamber Music Festival with the Troubadour String Quartet and recording a work by Gillian Whitehead as second cello for the New Zealand String Quartet.
Gracie Francis, aged 30, from Cambridge in Waikato is one of the most sought-after collaborative pianists at The Juilliard School in New York, a significant achievement in a competitive pool of top-rank pianists. Her talents have also been recognised outside the school by leading figures such as soprano Renée Fleming and the heads of the Metropolitan Opera and San Francisco Opera music staffs.
Gracie completed a Master of Music in Collaborative Piano (Vocal) at Juilliard last year and is now studying for a Doctor of Musical Arts in Collaborative Piano there, which her Kia Ora Foundation Patricia Pratt Scholarship will support. She graduated from Waipapa Taumata Rau, University of Auckland in 2014 with a Bachelor of Music with Honours.
"Before starting at Juilliard, I already had a long-term goal of becoming a university professor for collaborative piano in New Zealand," says Gracie. "New Zealand is full of young pianists with enthusiasm for working collaboratively and earning my doctorate at Julliard will allow me to become a part of helping them grow in the future."
Felicity Tomkins, aged 25, from Te Puke in Bay of Plenty has received a scholarship to support her continuing studies towards a highly regarded Artist Diploma in Opera Vocal Performance at the University of Cincinnati College-Conservatory of Music (CCM) in the United States. She has previously completed a Master of Music with Honours and conjoint Bachelor of Music with Honours and Bachelor of Science at the University of Waikato.
After a strong musical grounding in New Zealand, including as a Dame Malvina Major Foundation Studio Artist with New Zealand Opera and in four of New Zealand Opera's summer schools, Felicity is excited to be taking her first steps overseas. She has been described as a voice to watch on the national scene.
Highlights of Felicity's first year at CCM have included being the soprano soloist in Mahler's Fourth Symphony with the CCM Chamber Orchestra and she is looking forward to an immersion course in Germany for six to eight weeks as part of a new initiative for Artist Diploma students.
"I am thrilled to have experienced further development in my artistry since my arrival at CCM and I cannot wait to see how this continues to be strengthened over the remainder of my time on the Artist Diploma programme and beyond," says Felicity.
The Kia Ora Foundation Patricia Pratt Scholarship is funded by the Kia Ora Foundation, established in 1997 by New Zealand-born philanthropist Annette Campbell-White in memory of her mother, Patricia Pratt, to help outstanding young New Zealand musicians continue their musical development at a renowned international music school or conservatorium for up to two years. The scholarships are awarded for classical music performance, including vocal or instrumental performance or conducting.
Applications for the 2023 Kia Ora Foundation Patricia Pratt Scholarship open on 1 November and close on 1 March. Further details are on the scholarship's page on the Universities New Zealand – Te Pokai Tara website.
The scholarship is administered by Universities New Zealand along with around 40 others worth more than $2 million.
Images (from left): Bethany Angus, Gracie Francis and Felicity Tomkins.