Back to top
Time for a radical rethink of tourism
28 April 2021 | news
As New Zealand's borders slowly start to open, questions are being asked about the future of tourism in this country. Do we want to go back to the way things were? Or is it time to take a different path?
Associate Professor Christian Schott, from Te Herenga Waka—Victoria University of Wellington, argues that a radical change is needed—and quickly—with a move to regenerative tourism.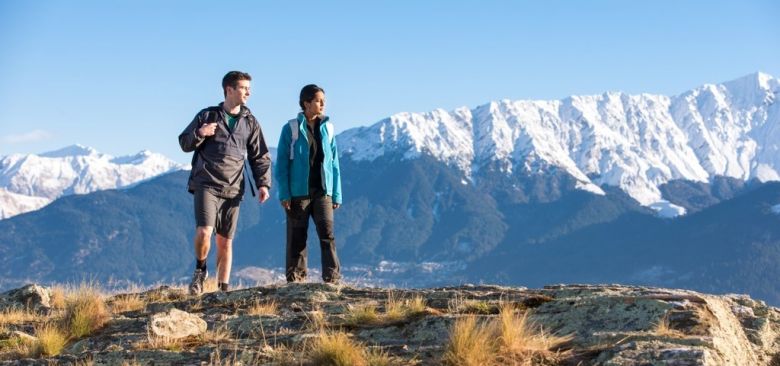 "We must embrace the opportunity that has been born out of so much suffering, and we need to move now, before more borders open," says Schott.
While sustainable tourism is held as a goal by many in the industry, it doesn't go far enough for Schott. "Taken literally, this means just trying to maintain the status quo. But in the context of the wellbeing of all New Zealand—social, cultural, economic and environmental—we are not doing enough if all we're doing is trying not to make things worse.
"We need a regenerative approach to tourism, to achieve an environment, society and economy that has increased wellbeing after tourists visit. It's a higher-level goal than sustainability."
Schott believes New Zealand is uniquely positioned to take the lead in establishing regenerative tourism. "We have built up a world image of integrity, particularly during the COVID crisis. New Zealand took its own path and came out as a leader. If we say we are going to become a regenerative tourist destination then people would see we have integrity and could do it."
This goal aligns with many recent reviews and reports, such as MBIE's Tourism Futures Taskforce interim report, the Parliamentary Commissioner for the Environment's report, and Treasury's Living Standards Framework.
"There is also public support for a change," says Schott. "While there is support for tourism, it's not necessarily for the sort of tourism we had previously, where, in some cases, it felt like communities were supporting tourism rather than other way round."
100% Pure?
New Zealand's '100% Pure' slogan is increasingly being questioned, both by international tourists and locals. "But rather than ditch it, we should live up to it!" he says.
But how? Schott suggests we are close enough to being able to make the transition towards a more regenerative approach. "Tourism doesn't always have to be about tourists spending lots of money, but should also be about slowing things down to enable cultural exchange in a context where guests and hosts treat each other with respect.
"It could also mean 5% added to a night's accommodation to go towards local projects; or putting extra time into community projects such as backpackers helping with pest eradication.
"For example, I have been working with the Youth Hostel Association in Wellington who are doing far more than provide accommodation. They have been running beach clean-ups for years, providing sustainability-focused education for their guests and reminding tourists why and how New Zealand is different to other countries. They are leaders in processes and techniques to bring down consumption and increase what they contribute to environmental management of tourism."
Schott also sees an important role for Government in setting the scene. "Through focused marketing and communications, tourists need to know what is expected of them, in addition to what they can expect of a unique and memorable New Zealand holiday. Government as well as tourism operators need to make sure that potential tourists understand, before they book their ticket to come here, why New Zealand has taken the regenerative path and what that means for their time here.
"As has also been proposed by other reports, central government needs to strengthen the Department of Conservation's role to ensure and enhance the wellbeing of the natural environment, as well as provide more direction and oversight of contentious issues such as freedom camping.
"However, I see the most important role of Government as carefully monitoring how tourism affects the social, cultural, economic and environmental wellbeing of all of New Zealand, and supporting the transition of New Zealand's tourism image to one that is clearly regenerative in its approach. 
"Through this revised international image we want to invite tourists that think 'New Zealand is unique and taking a different path, and I respect that and want to contribute during my visit'."
Virtual Reality invaluable tool
Schott believes tools such as virtual reality (VR) would be invaluable in helping tourists understand New Zealand and what to expect of their travel experience here.
"We can get tourists to read a pamphlet or watch a video, but that doesn't go far enough to make people really care. VR is immersive and creates an emotional link that will help people understand why New Zealand, its cultures and tourist  experiences are unique.
"My research has shown that VR technology is incredibly powerful in connecting people to distant places and cultural settings. This then allows us to let prospective tourists see that they will have a unique and memorable experience, but that there are also expectations that not only will tourists and operators be enriched, but the whole community and natural environment will be too."
Maori academics make the point that te ao Māori, the Māori world view that acknowledges the interconnectedness of all living and non-living things, and the Māori principle of manaakitanga are strongly aligned with a regenerative approach to tourism, says Schott.
"With a unique indigenous culture and worldview that places strong emphasis on the principle of regeneration, and an innovative mindset that has helped us overcome many challenges, we could be global leaders in regenerative tourism," he says.
"Implementation will throw up many challenges, but we need to start by re-engineering our image to the world. I strongly believe that if we set the right expectations for tourists, as well as for the country, then the tourists who come here will themselves adopt a regenerative mindset during their visit, which will enrich not only New Zealand but also the tourists themselves.
"We are already in a period of so many transitions—the most opportune time to transition to a regenerative approach to one of our key industries is now."
This article builds on a presentation given by Professor Schott as part of the Speaker's Science Forum 2021, research presentations organised for Members of Parliament by Forum partners Universities New Zealand, Science New Zealand, the Royal Society, and the Independent Research Association of New Zealand.
Sustainability project wins Gold Award at QS-Wharton Reimagine Education Conference: A virtual reality experiential education project led by Associate Professor Christian Schott from the Wellington School of Business and Government won the Gold Award in the highly competitive Sustainability Category at the 2020 QS-Wharton Reimagine Education Conference