Back to top
Rhodes Scholarship for New Zealand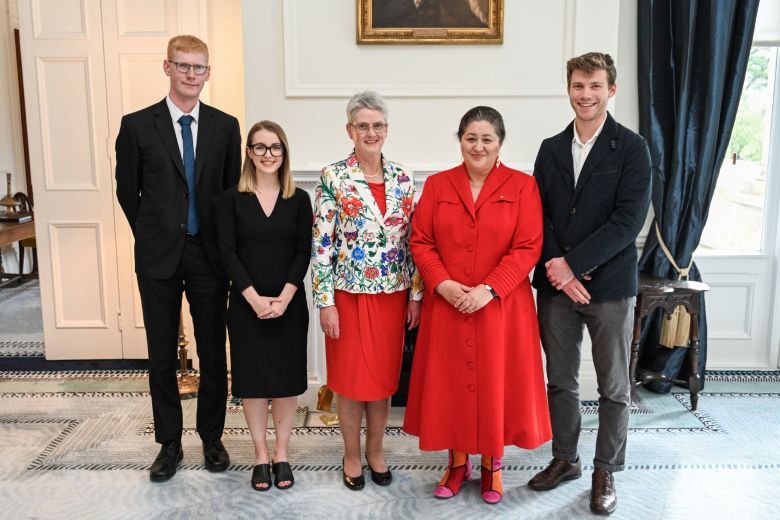 From left, 2022 Rhodes Scholarship recipients Elliott Hughes and Maisy Bentley, Distinguished Professor Dame Jane Harding, New Zealand Secretary for the Rhodes Trust, Governor-General Her Excellency The Rt Hon Dame Cindy Kiro and Scholarship recipient Oliver Sutcliffe.
The Rhodes Scholarship for New Zealand is a partnership between the Rhodes Trust and the Robertson Foundation.
Rhodes Scholarships are postgraduate awards supporting outstanding all-round students at the University of Oxford in the United Kingdom and providing transformative opportunities for exceptional individuals.
Established in 1903 under the will of Cecil Rhodes, the Rhodes is the oldest and perhaps most prestigious international graduate scholarship programme in the world.
Rhodes's vision in founding the Scholarship was to develop outstanding leaders who would be motivated to "fight the world's fight", to "esteem the performance of public duties as their highest aim" and to promote international understanding and peace.
The Rhodes Trust provides the Rhodes Scholarship in partnership with the Second Century Founder, John McCall McBain, and other generous benefactors.
In New Zealand the application and selection process is administered by Universities New Zealand – Te Pōkai Tara.
Covid information
The selection committee knows most people have been affected by Covid-related events over the past two years and have experienced various degrees of study disruption and stress as a result. In many cases, this has impacted academic grades, so recent grades may not be as good an indication of potential as in past years. The committee always looks beyond grades in assessing candidates and will be particularly careful to do so for those severely impacted by Covid-related interruptions. Candidates may also wish to include comments about the effect of Covid on them personally in their personal statement where this is relevant.
Eligibility
Candidates must:
at the closing date for applications in the year of application hold New Zealand citizenship or a New Zealand Permanent Resident Visa
at the closing date for applications in the year of application have spent at least five of the previous 10 years in New Zealand
by the time of entry to Oxford have graduated with an undergraduate degree with a GPA of 7.50/9.00.
Age – you must meet either of the below criteria:
On 1 October 2023, you must be 18 - 24 and have not reached your 25th birthday (i.e., you must have been born after 1 October 1998 and on or before 2 October 2005).
OR (for older candidates who completed their first undergraduate degree later than usual)
On 1 October 2023, you must not have reached your 27th birthday (i.e., have been born after 1 October 1996) AND have met or will meet the academic requirements for completing your first undergraduate degree on or after 1 October 2022.
Value and number awarded
The value of the Rhodes Scholarship is set by the Rhodes Trust. Refer to the FAQ on the Rhodes House website.
Fees are paid directly by the Trust to the College and University.
Up to three scholars are elected from New Zealand each year.
Support
Rhodes Scholarship Advisers are available at each New Zealand university.
Their role is to encourage and support applications for the Rhodes Scholarship for New Zealand.
The advisers are:
Candidates who have specific questions about eligibility, the application form/process, the selection process, etc, should contact the Scholarships Office of their university or Universities New Zealand: scholarships@universitiesnz.ac.nz.
Overseas candidates may contact scholarships advisers at their home university or Professor Kris Gledhill at AUT: kris.gledhill@aut.ac.nz.
Applications 
Check your eligibility.
Further information for candidates is available is available here.
Make sure your referees read the Guidance for Referees.
Use the online application system.
Opening date
1 June 2023.
Closing date
1 August 2023.
Decisions made
November 2023.
Inquiries
Please direct all inquiries regarding eligibility or process to scholarships@universitiesnz.ac.nz.
New Zealand Rhodes Scholars Association
Membership of the New Zealand Rhodes Scholars Association is open to all those who have been Rhodes Scholars, or Rhodes Visiting Fellows, from New Zealand, and other Rhodes Scholars living in New Zealand. The main purposes of the Association are:
to help promote knowledge of the Rhodes Scholarship in New Zealand
to recognise the achievements of newly selected Scholars – e.g., through functions to farewell them before they leave for Oxford.
Newsletters keep members up to date with what is happening in the 'Rhodes community'. The Association can also put prospective candidates for a Rhodes Scholarship in touch with recently returned Scholars, if they wish.
The Association can be contacted through its Honorary Secretary, Professor Peter Rutledge: peter.rutledge@sydney.edu.au.
Previous Scholars
A list of New Zealand Rhodes Scholars from 1904 is available here.