Back to top
Sullivan Scholarship
The funds for this scholarship are provided by the income from a bequest made to the University of New Zealand in 1907 by Daniel O'Sullivan, a farmer from Pleasant Point, Canterbury. 
The scholarship is open to applicantions from students of the Roman Catholic faith who will attend Medical School at either the University of Auckland or the University of Otago.
Eligibility 
To be eligible to apply for the Sullivan Scholarship an applicant must be: 
a New Zealand citizen or permanent resident
intending to enrol at either Auckland or Otago University's Medical School for a degree in medicine
a practising Roman Catholic.  
Candidates applying for a Health Sciences first year (Otago) or BSc Biomedical Science (Auckland) degree, or whatever course the universities deem is the first year of a medical degree, are eligible to apply for the scholarship.
Should they subsequently not continue with medicine, the scholarship will be withdrawn.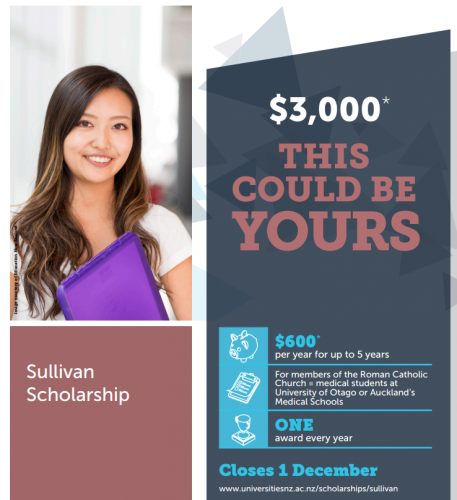 Value and number awarded 
$600 per annum for up to the minimum time it takes to complete a medical degree (five years). 
One scholarship is awarded each year.
Opening date
1 August
Closing date 
1 December (NZDT)
How to apply 
Check your eligibility.
Read the Regulations.
Applications are to be made online. A link to the application website is here.
Decisions made 
April