Back to top
Learning in the real world
13 May 2020 | news
[To read the rest of the story on university accommodation from the August newsletter, please follow this link.]
A familiar criticism of graduates is that they're not 'ready' for the world of work—'all book learning, but no real experience'.
New graduates face the Catch-22 that they need relevant experience for even an entry-level job but can't get the experience…because they can't get that first job.
So how can universities prepare their graduates for the workplace?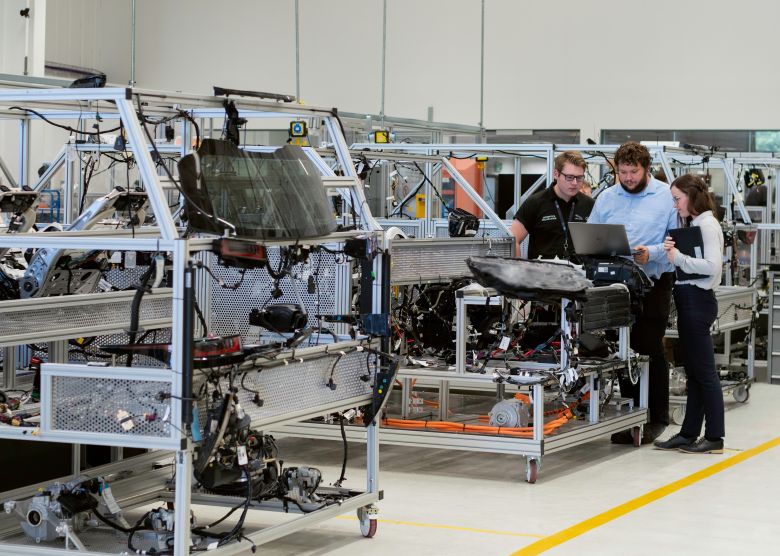 Work-Integrated Learning (WIL) is one way in which universities are looking to help their students navigate this maze by giving them a chance to develop practical experience and skills while studying.
Dr Karsten Zegwaard, Director of Work-Integrated Learning Research at Waikato University, says maintaining its WIL programme under present lockdown conditions is challenging, but also offers plenty of creative opportunities.
"WIL is defined as 'an educational approach that uses relevant work-based experiences to allow students to integrate theory with the meaningful practice of work as an intentional component of the curriculum',"[1] says Dr Zegwaard. "It requires three partners: the student, the university and a workplace/community".
"Examples include off-campus, workplace immersion activities such as work placements, internships, practicum, service learning and co-operative education, as well as on-campus activities such as work-related projects/competitions, entrepreneurships, student-led enterprise, and so on.
"This will be a year of creative thinking, with a virtual space where students engaged in workplaces are actually working from home."
WIL compulsory at Waikato
While some degrees have by necessity always had a practical component—teaching placements for trainee teachers, work experience for engineering students, pilot training in simulators, etc—Waikato is the first New Zealand university to make WIL a compulsory component—with either work placements or work-related projects—for all undergraduates first enrolled in 2018.
"This is now the third year for students who enrolled in 2018, which means they must complete their WIL requirements this year if they have not already. At present we're looking at both virtual WIL, with students working from home and completing projects, and simulated WIL, where authentic tasks are replicated in an artificial environment. It is possible to create an artificial business, for example, on a Moodle platform and have students carry out tasks common in the actual workplace.  Such an example already exists in Australia for accounting."
"Another thing we can explore further is that all universities are themselves workplaces and employers, so students may be able to complete relevant work in-house with the university as the 'external partner', with students coming into their legal or financial departments, or working on environmental science projects on the university grounds, for example."
'A real buzz'
Dr Zegwaard says WIL can be resource-hungry; bringing work placement in on top of existing course requirements and making the learning real and meaningful, not just an exercise to meet assessment requirements, can be challenging. "Students themselves are very positive about WIL. They get a real buzz from it and like the idea of going out putting what they have learnt into meaningful practice and the opportunity of building up their professional networks".
"Many often find their first graduate job where they had their placement; equally, now and then, the most valuable thing they learn can be that they don't want to do something! It gives them the opportunity to change course during their study programme and enables more informed decisions on what to study and where to focus their career aspirations."
WIL co-ordinators engage with local businesses and build relationships with students and employers. "We have positive relationships with local businesses and, as part of the campus-wide role out of WIL, we ran focus groups with a range of employers who all indicated they are keen to be more involved. They have a vested interest in helping develop a strong programme and the ability to shape what is coming through".
"For example, we've had a science placement programme and relationship with Auckland Regional Council for many years, particularly in environmental sciences, and with local business like Gallagher and Fonterra. Many students who have had placements with these employers have gone on to permanent jobs at the same organisation."
Dr Zegwaard himself is a graduate of the programme, with an early placement at AgResearch, where he discovered he enjoyed research. "I loved my placement; it spurred me on to do a Master's degree and a PhD in Science. I later progressed my research into work-integrated learning, mostly in the context of science and engineering but also more broadly."
New Zealand research recognised
New Zealand researchers in this field feature strongly internationally. Dr Jenny Fleming (AUT) has just received the US-based Cooperative Education and Internship Association's (CEIA) Ralph Tyler Award for "outstanding and distinguished research and publication in cooperative education and work-integrated learning", and both Prof Andy Martin (Massey) and Assoc Prof Kath Hay (Massey) received the 2018 Ako Aotearoa Sustained Excellence in Tertiary Teaching Award for their academic work in WIL.
Dr Zegwaard is the editor of the International Journal of Work-Integrated Learning (www.ijwil.org) and last year received the CEIA's James W. Wilson Award for Outstanding Contribution to Research in the Field of Cooperative Education and Internships. This year he received a fellowship award from Work-Integrated Learning New Zealand (renamed from the NZ Association for Co-operative Education) "in recognition of his sustained excellence in contributing to the Work-Integrated Learning New Zealand organisation and the International Journal of WIL, and outstanding influence both nationally and internationally in WIL through his distinguished academic writing and international handbooks that have provided inspiration to academics and students in New Zealand and in many parts of the world".
"There are many approaches the universities can use to produce work-ready graduates and with direct links to workplaces, WIL is proving to be an important approach," he says.