Back to top
On the road to success with a Transport Research Scholarship
26 September 2023 | news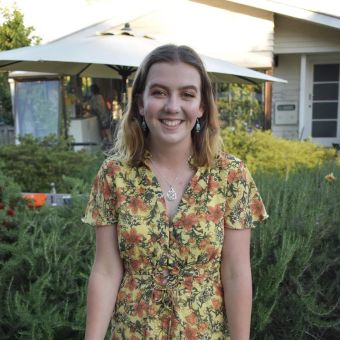 Kiri Crossland recently completed a Master of Environmental Planning at the University of Waikato with the assistance of a Waka Kotahi Transport Research Scholarship, administered by Universities New Zealand – Te Pōkai Tara. Kiri's research focused on access to public transport for queer people in Aotearoa.
"Having access to good quality public transport can make a tremendous difference in people's lives by connecting them with friends, whānau, essential services and job opportunities," says Kiri.
"My research showed that queer people face more difficulty than straight people when accessing public transport, largely due to discrimination and harassment. The research also showed that there are clear interventions that can be made to help mitigate these issues: namely, increasing public transport frequency and hours of operation, improving the safety of walking routes to public transport, and providing staff training."
The stipend from the Transport Research Scholarship meant Kiri was able to reduce her hours at work giving her the time she needed to pursue her research.
"Without the financial support of the scholarship it would have been difficult to manage studying and working. I also greatly appreciated the support and encouragement from the team at Waka Kotahi who checked in on my progress and offered advice to help me refine my ideas."
Before Kiri undertook her Masters, she knew she was interested in researching transport, but found the Transport Scholarship was invaluable in helping her narrow the focus of her research.
"Initially, the huge scope of possible topics I could investigate was a little overwhelming," says Kiri. "I appreciated having the list of strategic priorities from Waka Kotahi – it helped focus my ideas and I got the added benefit of knowing my research would be filling an important gap in the transport sector."
If you're pursuing a masters and your research interests are in transport and its role and impact on New Zealand society, Kiri highly recommends applying for one of the Transport Research Scholarships.  
"I am a much more confident researcher now and have a good understanding of how to design a research process to achieve the best possible outcomes. The skills I developed during my studies have had an immediate impact on my career. In the six months since finishing my studies I've had the opportunity to design and complete other research projects as part of my work with MRCagney. I've recently joined the Urban and Spatial Planning team at Hamilton City Council and am looking forward to putting my research skills to use to benefit my hometown.  I am a self-confessed research nerd, so I'm sure there are many more research projects in my future!"
Transport Research Scholarships (Masters) are valued at $6000-$15,000. Applications close on 31 October.
To find out more, click here or email jane.edwards@universitiesnz.ac.nz