New Zealand's eight universities are publicly funded, autonomous tertiary education institutions.
Key facts & stats
New Zealand's universities are substantial operations with consolidated income of over $4 billion per annum
They are responsible for the education and employment of more than 181,000 students and 22,000 staff (2019).
42% of universities' income is from Government through tuition grants, Student Achievement Component (SAC) funding, and Performance Based Research Funds (PBRF);
28% from students through tuition fees
30% from university research, commercialisation and other revenue.
The Tertiary Education Commission (TEC) is responsible for funding and monitoring tertiary education in New Zealand.
The Minister of Tertiary Education, Skills and Employment caps any increases to domestic student fees through the Annual Maximum Fee Movement (AFM). A maximum increase of 1.1% has been set by the Government for 2021.
Universities are expected to be financially viable, and generate small surpluses of around 3% on an ongoing basis, and to be sustainable in the long term eg by maintaining assets, protecting capabilities and capacity, etc.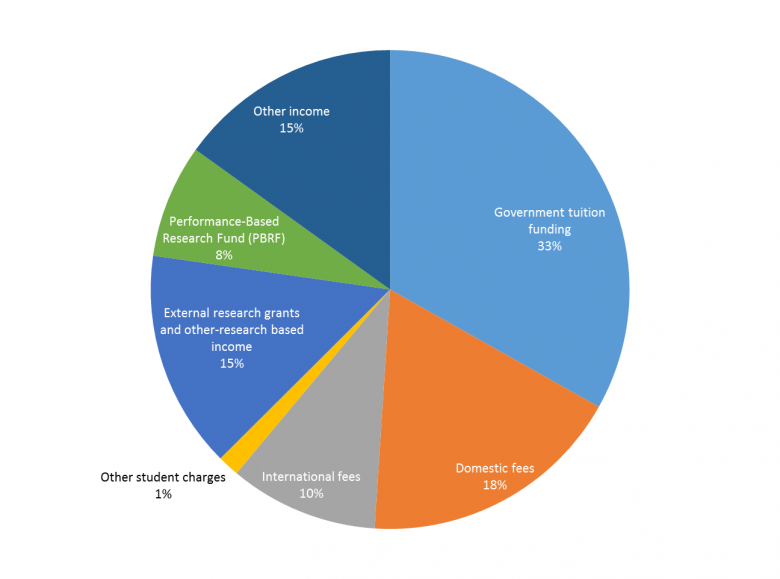 Universities receive income from a variety of sources including government, domestic students, international students, research grants, commercialisation opportunities, trading activities and philanthropy.
Over the past three decades, New Zealand has seen a dramatic increase in the numbers of people going to university and a substantial influx of international students who come to study in our country.
As these numbers have grown, so too has government's investment in university education and individual students' contributions via fees. At the same time, universities have continued to expand their research and industry connections, diversifying their income sources further, increasing research and commercialisation income and revenue gained from affiliated trading activities.