Back to top
University of Canterbury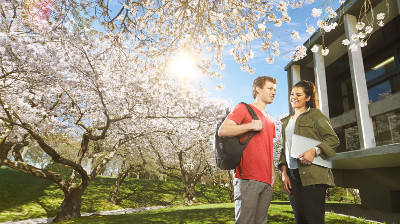 Vice-Chancellor
Professor Cheryl de la Rey
Location / campuses
Date established
1873
Numbers of students
Student headcount: 17, 136
Specialisation/s
College of Arts | Te Rāngai Toi Tangata
College of Business and Law | Te Rāngai Umanga me te Ture
College of Education, Health and Human Development | Te Rāngai Ako me te Hauora
College of Engineering | Te Rāngai Pūkaha
College of Science | Te Rāngai Pūtaiao
Rankings / awards
UC is ranked 227= in the QS World University Rankings 2020
UC is ranked in the top 150 in the following subjects (QS World University Rankings by Subject):
Accounting
Civil Engineering
Finance
Geography
Geology
Law
Linguistics
Taxation and Accounting
Water and Environmental Systems Engineering
UC is ranked first in New Zealand for the following subjects (Performance-Based Research Fund (PBRF) 2018):
Ecology, evolution and behaviour
Marketing and tourism
Political science, international relations and public policy
Public health
Times Higher Education (THE) ranked UC in the top 301-350 universities in the world, in 2019.
See UC's international rankings and accreditations
The University of Canterbury | Te Whare Wānanga o Waitaha (UC) is a community of change makers. UC students, staff and researchers are engaged, empowered and making a difference through local engagement, global connection and impactful research.
UC offers 80+ subjects across six colleges:
UC students become well-rounded graduates who are competent in their chosen field of study and also innovative, connected, bicultural, global citizens. UC qualifications are recognised worldwide and UC graduates go on to high-calibre employment in business, Government, and NGO sectors, or are accepted into prestigious university programmes and secure research and teaching positions around the world.
The UC lifestyle
UC is situated in the Christchurch suburb of Ilam, a ten-minute drive from the city centre and close to both mountains and the sea, providing an enviable student lifestyle.
UC's unique campus is set within 87 hectares of beautifully landscaped grounds and all of our halls of residence are within easy walking distance of the campus. Our 18,000 students enjoy state-of-the-art laboratories, and research and learning spaces, many of which were refurbished or designed and built within the last decade.
The UC Students' Association (UCSA) and its network of student clubs and societies is thriving. With over 150 student clubs and cultural groups there is bound to be a group dedicated to your interests to get involved in, and to meet people.
Student support
UC is committed to enabling and supporting students to thrive and succeed by providing a wide range of support services on campus. Support on campus includes academic, health and medical services as well as facilities to support wellbeing and rainbow diversity.
Research and teaching
Teaching and learning at UC is research-led by academics who are experts in their field. Teaching programmes at UC change frequently to keep up with global changes and trends, ensuring qualifications remain relevant.
Much of UC's world-class research is carried out within our 35 recognised research centres, institutes and field stations. The University boasts an extensive network of research field stations across the globe, with sites in Antarctica and Nigeria (as part of the Nigerian Montane Forest conservation project) and the country's leading astronomical research facility within an International Dark Sky reserve at Mount John, Tekapo.