Tālofa lava, Mālō e lelei, Kia orana, Ni sa bula vinaka, Halo olaketa, Kam na mauri, Noa'ia, Aloha, Fakaalofa lahi atu, Ia orana, Mahalo, Mālō ni, Kia ora and warm Pacific greetings.
Komiti Pasifika's role is to advance and promote the collective national interests of New Zealand universities for any matters relating to the advancement of Pasifika. The Komiti was established in 2018 and the current Chair is Assistant Vice-Chancellor Hon. Luamanuvao Dame Winnie Laban, Victoria University of Wellington.
Komiti Pasifika Members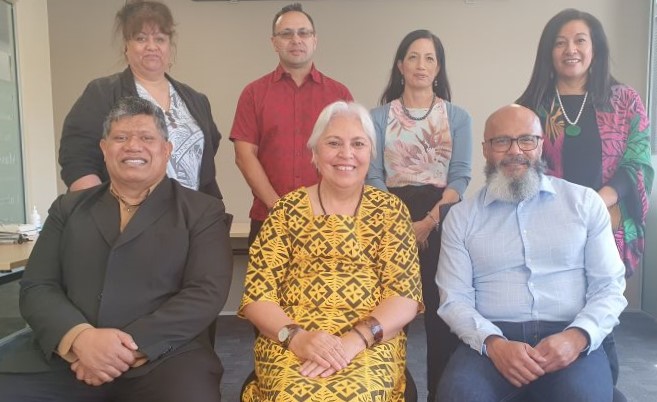 Back row (Left to right): Pauline Luafutu-Simpson (Canterbury), Toeolesulusulu Damon Salesa (UoA), Keaka Hemi (Waikato), Dr Tasileta Teevale (Otago)
Front row (Left to right): Palatasa Havea (Massey), Luamanuvao Dame Winnie Laban (Victoria), Walter Fraser (AUT)
Komiti Pasifika Facts and Figures
See our latest facts and statistics about Pasifika students within our universities - Building Pasifika Success
Enhancement Theme
The Cycle 6 Academic Audit includes an Enhancement Theme in which universities collectively address an issue which is important to individual universities and of national significance.  The topic for the Cycle 6 Enhancement Theme is "Access, outcomes and opportunity for Māori students and for Pasifika students". An Enhancement Theme Steering Group has been formed to guide and oversee theme activites and progress. Luamanuvao Dame Winnie Laban and Tasileta Teevale are Komiti Pasifika's representatives on this committee. 
2020/2021 Komiti Pasifika Updates
Universities New Zealand - Te Pōkai Tara:
Xavier Breed
Pacific Policy Advisor
Lotofaga (Aleipata), Matatufu, Falelatai, Falefā - Sāmoa